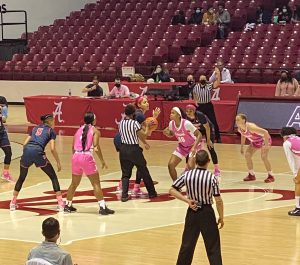 TUSCALOOSA, Ala — The Alabama Women's Basketball Team had a chance to break their three-game losing streak against Ole Miss on Thursday night but fell short, with the final score showing 67-62. 
The Power of Pink/Play4Kay game turned out festive, with fans decked out in pink and Coleman Coliseum decorated with pink lights and banners. The Crimson Tide's pink jerseys added to the aura of the night as well as highlighting who they play for on the jumbotron.
It was hard-fought with the Tide trailing for the majority of the game, even digging themselves into an 11-point deficit at half-time, but eventually coming back to tie the game at the end of the third quarter.
It looked as if Alabama was trying to rely on Jasmine Walker, one of the top 3-point shooters in the SEC as well as in the nation, to bring them back up to speed during the third quarter. She currently leads the NET in threes made per game (3.12).
And even though they desperately needed her expertise to climb back from the hole they found themselves in, Walker ended up going one for seven of 3-pointers against the Rebels. It was Megan Abrams that helped the Tide in that department, tallying two of her three, 3-pointer attempts.
The Crimson Tides downfall? Rebounds. 
Alabama plays a fast game, going up and down the court with fast breaks and capitalizing off turnovers, but the one component that would've solidified a win was rebounding. Ole Miss did a good job of not letting the Tide grab a second chance in their own paint.
The Rebels had an extra offensive rebound and two defensive rebounds on the Crimson Tide, which doesn't feel like a big margin, but extra possessions in a close game where the scales are constantly tipping can be the ultimate deciding factor on who wins and losses.
This is something Alabama can focus on going up against Auburn, where they will look to even out their conference record which currently sits at 5-6. The Tide beat the Tigers at home in the last matchup, 67-55.
The Tide will play Auburn in Tiger territory at 5 p.m. on Sunday, Feb. 14.