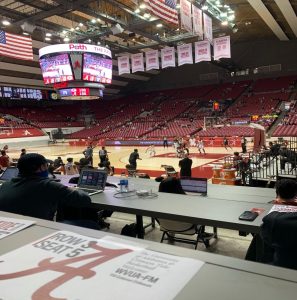 TUSCALOOSA, Ala.- The Crimson Tide swept the Georgia Bulldogs in their first meeting of
the 2020-2021 season.
Alabama's Men's basketball had a SEC record breaking win Saturday at Coleman Coliseum
against Georgia winning 115-82. 'Bama set a record for most points scored in a SEC game.
Alabama started off the game strong during the first half outscoring Georgia 51-38. The Tide
forced 13 turnovers and having five steals. Herbert Jones was on fire, leading the team with 21
points, five rebounds and four assists in 29 minutes. Jones looked healthy and backed to his
normal self-following his lower back and glute injury. Freshman Joshua Primo also stuck out for the Tide with 19 points, four rebounds and one steel in 23 minutes. Freshman Darius Miles had a massive dunk at the end of the game on Georgia player Josh Taylor. Alabama improved to (17-5 overall) and (12-1 SEC) and still ranked No. 1 in the SEC and No.11 ranked overall.
Guard Jaden Quinerly stated, "Guys came to the game today ready to shoot, we all came in with
a positive mindset and trusting our game," Coach Nate Oats stated, "Our team defense was not
where it needed to be but Herb Jones himself, I thought was pretty good, I mean our defense
wasn't awful, it just wasn't what we were used to getting from our guys," The team will be back
in action on the road, this Wednesday, February 17 at 8 p.m. against the Texas A&M Aggies
who are (8-7 overall) and (2-6 SEC). 'Bama will be back in action at home on Saturday,
February 20 against Vanderbilt. The Tide is looking to continue rolling, as they close out the
regular season and head into the post season.