By Martha Glen Sease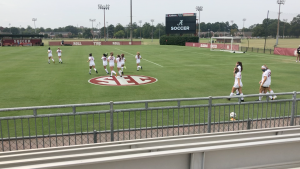 TUSCALOOSA, Ala. – After 110 minutes of conference play in 90% humidity, the University of
Alabama Women's Soccer team ends their face off with Mississippi State University in a 1-1
draw.
Alabama freshman Felicia Knox opened the game scoring only five minutes in to put UA up 1-0.
Mississippi State did not answer until late in the game. MSU player Hailey Farrington-Bentley
chipped in a buzzer-beater over McKinley Crone to send the game into overtime.
NCAA overtime is sudden victory. There are two ten-minute periods; the first goal wins. If a
player is substituted off the field, they may not reenter in that overtime period. If no additional
goals are scored, the game ends in a draw after the second overtime period.
In the 96 th minute, UA freshman and Mexican Youth International player Tanna Sanchez-Carreto
was sent off with her second yellow card. UA played the remainder of both overtime periods
with only 10 players on the field. Sanchez-Carreto will miss the upcoming match against the
University of Florida.
Even with only 10 players, the Crimson Tide continued to pressure the Bulldogs' defense. Both
overtime periods were scoreless, moving the Tide to a record of 1-0-1. The Bulldogs also drew
against Auburn University last week: 1-1 in 2OT.
By the Numbers
The Crimson Tide had 12 shots, with seven on goal.
 McKinley Crone made three saves and allowed one goal.
 Reyna Reyes was the Tide's leader in shots with three shots, and all three were on goal.
 Riley Mattingly, Felicia Knox and Taylor Morgan each had two shots apiece.
 Allie Berk made had one shot.
 The Crimson Tide was given 15 fouls throughout the game.
 Felicia Knox was awarded a yellow card, and Tanna Sanchez-Carreto was sent out of the game after earning a red card after she was awarded her second yellow card in the first
overtime period.
The Crimson Tide had four corner kicks throughout the game.
Goalkeeper McKinley Crone and defender Brynn Martin were the only two Crimson Tide players to see all 110 minutes of the match.
The Crimson Tide is first within the SEC West with 4 points, as of Friday, Sept. 25.
The Crimson Tide will travel to Gainesville, FL on Sunday, Oct. 4. Kickoff is at 4 p.m. CST.