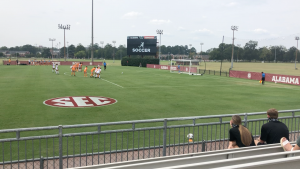 By Martha Glenn Sease
TUSCALOOSA, Ala. — The University of Alabama Women's Soccer returns to the Alabama Soccer Stadium the same way it left last March – facing off against the University of Tennessee.   
Similar to their last game on March 7, the Crimson Tide beat Tennessee. UA won 3-1.  
Game Details
Riley Mattingly, a junior center forward, lead the offense in scoring. She netted two of the Crimson Tide's three goals.  
Mattingly scored off a penalty kick in the 20th minute. Mattingly said she has to give credit to Casey Wertz for drawing the penalty kick. She says, "I'll probably have to write her a thank you card." 
Mattingly said she has been working this off-season on her self-talk and knew she would make the penalty kick as soon as she walked up.  
Mattingly also largely credited Felicia Knox, a freshman midfielder, for her second goal. Mattingly sent a header into the bottom right corner of the net in the 48th minute.   
Mattingly's second goal was immediately followed by Serena Pham, a sophomore midfielder, sending in an unassisted goal after she beat a Tennessee defender and the Tennessee goalkeeper one-on-one.   
In the 75th minute, Erin Gilroy, a forward, scored Tennessee's lone goal.  
McKinley Crone, a junior transfer from the University of Oklahoma, had a big first game in goal for the Crimson Tide. Crone faced 17 shots from Tennessee and made five saves.  
Player/Coach Analysis
Crimson Tide head coach Wes Hart said, "Crone was a stud today." He said he was impressed with the plays Crone had high off her line to sweep away through-balls from Tennessee. Hart said, "it's not going to show up on a stat sheet, but those were huge plays." He also said they can't be content with allowing Tennessee to score, but overall, he was very happy with Crone's performance.  
Mattingly, Wertz and Pham lead the Crimson Tide in shots with three apiece. Mattingly and Wertz had two shots on goal and Pham had one shot on goal.  
Hart said this is what he wants to see from Mattingly. Hart said, "My expectations for Riley are through the roof… I see so much potential in her." He said the message he gave Mattingly at halftime was to shoot more goals and get into the box as much as possible.   
Hart says he thinks that Mattingly, who was named to the 2020 SEC Preseason Watch List earlier this week, was possibly one of the best forwards in the SEC last year but didn't have the goals to back it up. He wants her to score more this season. He said, "we want her to be hungrier."   
Mattingly says it "means everything" to beat the University of Tennessee for the third time since Fall 2019. She sees great talent coming into the team with the freshman class, and she said she was happy with their season opening performance but "we've got to work out some of the kinks and get back into full-game shape."   
The Current Climate
There are no fans allowed in the Alabama Soccer Stadium for games, due to the COVID-19 pandemic. Only fans with passes from players and coaches are allowed in the stadium. They must wear masks and observe social distancing at all times.   
Mattingly said not having the Crimson Chaos – the student fan-section – at the game to cheer them on today was different, but they still gave away all their tickets and felt the support from their friends and families. She said they also noticed fans who were watching the game from outside the stadium. She said, "The fanbase is really important and a lot of times we feed off their energy, so we're grateful to have them all come out."  
Prior to the game, players and coaches on both teams wore shirts that read "TOGETHER, it just means more," and displayed a sign about anti-racism. There were players and coaches on both teams who knelt during the national anthem. 
Hart said he told his players they were all free to decide if they wanted to kneel or stand individually. He said, "We aren't here to judge any of them, and we asked our teammates not to judge. If someone has a personal belief or an opinion they felt strongly about, we're going to let them express it." Hart says he does not see this becoming an issue among the team.  
Looking Forward
The Crimson Tide moves into two straight away games after this. The Tide will play Mississippi State away on Sept. 25 at 6 p.m., followed by Florida away on Oct. 4 at 4 p.m.  
Mattingly says she likes playing away games. She says it's not as fun to play if there is no pressure on the game, and away games bring that. Mattingly thinks that as long as the team starts their games aggressively, pressures the opposing team and sticks to their game plan they will be successful.  
Hart says he likes to re-watch games after he has had time to process them. He expects he will see "a dozen things we can work on" before they head to play Mississippi State next week.  
He said he feels good about the result of the game, but "our goal isn't to win one game; this year we want to win the championship." He says his mindset moving forward in the season is not to be content, to stay hungry and keep improving. 
Photo Gallery