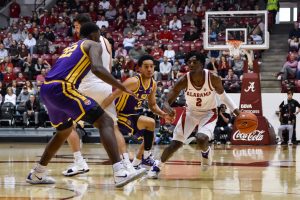 The SEC's post season tournament will get underway later today, despite concern from officials over the outbreak of the coronavirus.
With the start of the festivities in Nashville comes the official start of March Madness, the single-elimination format has begun.
Here is your all-inclusive guide to the weekend including what to watch and the upcoming schedule:
Where the Teams Stand
Teams in the Field:
Kentucky, Auburn, LSU, Florida
Teams on the Bubble:
Mississippi State, Arkansas
Teams Needing an Auto-Bid:
South Carolina, Texas A&M, Tennessee, Alabama, Missouri, Ole Miss, Georgia, Vanderbilt
Players to Watch
Immanuel Quickley (Kentucky)
Coming off a spectacular breakout season, Quickley comes into the tournament as the conference's Player of the Year. His ability to knock down shots from the perimeter will be crucial for Kentucky as they look to make a run through the month of March.
Scottie Lewis (Florida)
Lewis had a bumpy start to the season, not living up to his recruiting ranking and place on many of the preseason mock drafts. But, in recent weeks, his production has picked up and he has shown flashes of the player he was supposed to be all year for Florida.
Mason Jones (Arkansas)
Jones is on one of the greatest streaks in school history, scoring at a high rate and taking over games with his versatile style. With Isaiah Joe back in the lineup, Arkansas will look to make a much-needed push deep into the SEC tournament and gain their spot in the NCAA tournament next week. To get where they want, Arkansas will need to continue riding the production of their breakout star.
Wendell Mitchell (Texas A&M)
Mitchell is a senior guard at Texas A&M who has become one of the league's most interesting players since the start of March. Playing his last weeks of college basketball, he has put up numbers far above his career averages and led the team to a higher seed in the SEC Tournament than anyone could have predicted.
Anthony Edwards (Georgia)
Edwards will need to continue putting up some of the most productive games in college basketball to give Georgia a chance this week. His numbers this season are incredible. But, barring a miracle run, the potential top pick in the NBA draft will not play in the NCAA tournament.
Wednesday Action
G1 Ole Miss v. Georgia
#12/#13 6:00 p.m.
G2 Arkansas v. Vanderbilt
#11/#14 8:30 p.m.
Thursday Action
G3 Tennessee v. Alabama
#8/#9 12:00 p.m.
G4 Florida v. W G1
#5/(#12/#13) 2:30 p.m.
G5 Texas A&M v. Missouri
#7/#10 6:00 p.m.
G6 South Carolina v. W G2
#6/(#11/#14) 8:30 p.m.
Friday Action
G7 Kentucky v. W G3
Quarterfinal 12:00 p.m.
G8 Mississippi State v. W G4
Quarterfinal 2:30 p.m.
G9 Auburn v. W G5
Quarterfinal 6:00 p.m.
G10 LSU v. W G6
Quarterfinal 8:30 p.m.
Saturday Action
G11 W G7 v. W G8
Semifinal 12:00 p.m.
G12 W G9 v. W G10
Semifinal 2:30 p.m.
Sunday Action
G13 W G11 v. W G12
Championship 12:00 p.m.