The NFL Combine is underway in Indianapolis, Indiana and the top scouts, coaches and front office executives have descended upon the site of one of the most important events in the draft process.
Alabama will be represented by nine players at this year's combine, but not all will fully participate this weekend. Here is a rundown of the players to watch this week at the scouting combine, which you can watch from home on the NFL Network this Thursday through Sunday.
Alabama's Finest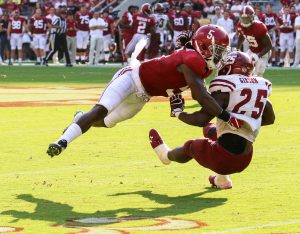 Shyheim Carter*:
Measurements not yet taken.
Carter received an invite to this year's combine and will look to make the most of his opportunity on Sunday with a strong set of measurables and drills against some of the top players in the class. This is his time to make noise and move up draft boards or to fall off of them completely.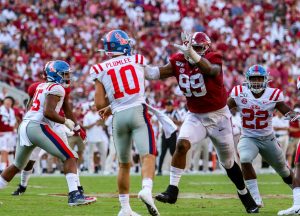 Raekwon Davis*:
6'6 | 311 | 11" | 85" 2/8
Davis will participate this week in drills, barring a change, and will look to build stock after posting good measurements earlier this week.
His size in the middle will make him an asset but questions about the lack of production in games will remain for teams that are looking at him as a top option on the defensive line.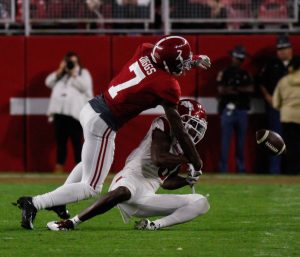 Trevon Diggs*:
Measurements not yet taken
Diggs should put up big numbers in all the measurable events this Sunday, much like his brother did a few years ago. But, the on-field drills will be the best opportunity for Diggs to raise his stock, showing improvement in technique and coverage skills.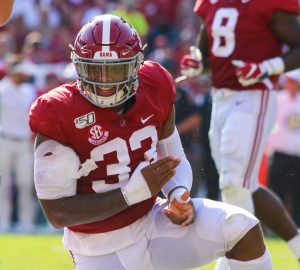 Anfernee Jennings*:
6'2 | 256 | 9" 1/8
Jennings will only participate in on-field drills this week, skipping the measurable events like the 40-yard dash and shuttle runs. This seems to suggest that his times would not have matched up favorably with comparable players, but that he feels in drills he can separate himself from the competition.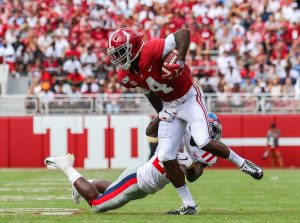 Jerry Jeudy*:
6'1 | 193 | 9" 4/8 | 76"
Jeudy found himself at the center of some controversy during the media day interview, where he shared his nickname "Jeu" and the fact that he wears a star of David necklace, despite having no Jewish heritage.
On the field, Jeudy will look to rebound with monster numbers and a clinic of footwork and route-running on Thursday.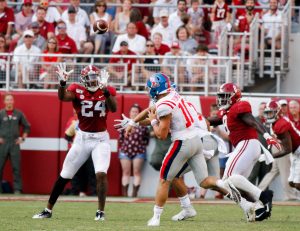 Terrell Lewis*:
6'5 2/8 | 262 | 9" 7/8 | 83" 3/8
Lewis was able to demonstrate his great measurements early this week and will only compete in on-field drills alongside Jennings. With his height and skill-set, the only question for many of the scouts will be his motor and the previous statements he has made about "turning it on."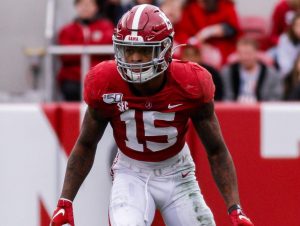 Xavier McKinney*:
Measurements not yet taken
McKinney will be one of the top DBs to watch on Sunday with a chance to assert his position in the first round and compete to be the top safety taken. He will have measurements taken Thursday and will speak with the media ahead of his workouts as well.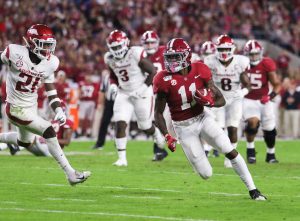 Henry Ruggs III*:
5'11 | 188 | 10" 1/8 | 74" 4/8
Ruggs is expected to have the biggest weekend of any player, not only from Alabama, but in the entire class. After measuring well with 10" 1/8 hands that put him in an elite category for receivers of his height, he will not turn his attention to the 40-yard dash, where he believes he can set the record. John Ross ran the 40-yard dash in 4.22 seconds, but some reports say Ruggs could run anywhere between a 4.18 and 4.25.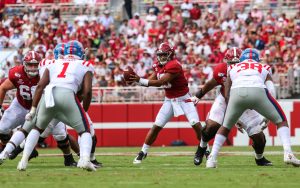 Tua Tagovailoa*:
6'0 | 217 | 10" | 75" 2/8
Tagovailoa will not participate in any on-field drills this week but told reporters that he expects to be cleared on March 9 and be a full participant on April 9 for Alabama's Pro Day. Ian Rapaport also reported earlier this week that teams who looked at Tagovailoa's medical were encouraged by what they saw.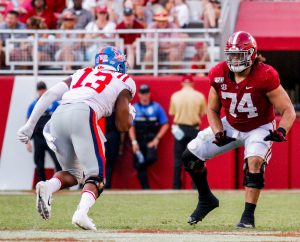 Jedrick Wills Jr.*:
6'4 2/8 | 312 | 10" | 83" 4/8
Wills is set to build on hype that started late last season around his power and grit as a weak-side offensive tackle. While his measurables will be important, on-field drills against the top players in his class will give him the opportunity he needs to make himself one of the top offensive linemen selected in the draft.
*All measurements are listed (Height | Weight | Hand | Wingspan)
The Top Prospects
Joe Burrow and Chase Young will not compete in this year's on-field activities after finishing measurements and taking questions from the media, as well as prospective teams.
Isaiah Simmons and Justin Herbert looked great after the measurements came in, again boosting the stock of two of the hottest risers in this year's draft.
With Burrow and Tagovailoa out of the field it will once again be Herbert's time to shine in drills against quarterbacks who were not able to match up with him at the Senior Bowl.
Simmons will have his chance to show off during drills as well, showcasing the diversity of his skill-sets and demonstrating the level of athlete he is.
The Underdogs
Ben Bartch, OL – St. John's (MN)
Tyler Bass, K – Georgia Southern
Omar Bayless, WR – Arkansas State
Kyle Dugger, S – Lenoir-Rhyne
Dante Olson, LB – Montana
Alex Taylor, OL – South Carolina State
Adam Trautman, TE – Dayton