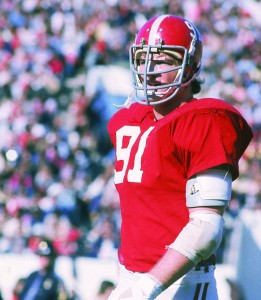 Bob Baumhower played defensive tackle for Alabama from 1973-76 under head coach Paul "Bear" Bryant. Despite his lack of recruitment coming out of high school, Baumhower would go on to become a two-time second team All-American during his junior and senior seasons, helping Alabama go a combined 31-4 in his three years playing time. Baumhower was drafted 40th overall in the 1977 NFL Draft by the Miami Dolphins, where he played until retirement in 1986. Baumhower now owns a chain of restaurants in Alabama called Baumhower's Wings.
GameDay: Talk about your recruitment to Alabama.
Bob Baumhower: OK. There was none. I really didn't get recruited by Alabama. I moved to Tuscaloosa when I was a senior in high school. I just started playing football, and I was so-so, didn't really know what I was doing. I didn't get recruited by anybody. I only had one official visit, to Auburn, and they didn't offer me a scholarship. A year came and went. I had a couple smaller schools come after me. I was recruited by Vandy, and I figured yeah, SEC school, Nashville, sounds good to me. So, long story short, I called my parents and told them I would sign, but my mom told me don't sign, that somebody from Bama wanted to talk to me. So, I got off the plane and went straight to meet Coach Bryant. He was apologetic he hadn't recruited me and offered me a scholarship right on the spot. Apparently he was reviewing tape of all his signees and saw me playing against one of his top offensive linemen, and I was having a pretty good day, and he was apparently pretty perturbed no one was recruiting me.
GD: Did you ever think you'd have the kind of success you did at Alabama?
BB: No, because I wasn't a guy who dreamed about playing football. It wasn't something that was instilled in me. My parents, they were great, but we just weren't a sports-minded family.
GD: What was your favorite thing about playing football at Alabama?
BB: I learned how to love the game. I played it in high school and as a freshman, and I really didn't play it for the love of the game. I learned how to love the game. It never left me. I still am thankful for that. I never had vision before Bama, and the relationships that came out of that, you just can't say enough good things.
GD: Are there any games that really stick out in your head as a player?
BB: A couple games. I remember as a sophomore, we played Florida State, and they had an 18-game losing streak. And they came in, played us in Tuscaloosa, and we eked out an 8-7 win. We probably shouldn't have won. It shows we weren't ready to play. Coach Bryant came in before the game, during the pre-game meal, and told us we weren't ready to play. And here we are, the No. 1 team in the nation, getting our butts whipped by FSU. And it just shows you that you have to be prepared and be ready to play in all games. So that stuck with me.
GD: You played on both Saturdays and Sundays. What game did you prefer playing more?
BB: Once you get into the game and you start seeing you might have an opportunity to play pro football, which is the best in the world, it doesn't get much better than that. But I don't forget what playing at Bama, what Coach Bryant, what moving to T-Town did for me. I loved Saturdays in Tuscaloosa. But I also enjoyed playing Sundays as well.
GD: During your three years as a starter, your team went 31-4 overall. What was your team's mentality during that stretch?
BB: Coach Bryant used to always tell us we were special. He could make you feel like you were special. He had this very unique ability to motivate you to be the best you can be. When you combine all that together, that's just a great, great formula for success. That just creates a winning attitude, and the last thing we wanted to do was let him down. We all wanted that pat on the back.