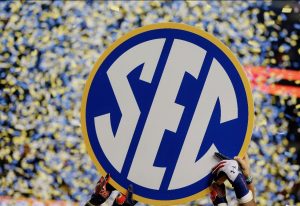 Saturdays down South during football season are matchless. Spring football is the appetizer for fans. Will the game change much for the SEC?
Florida Gators Head Coach Dan Mullen is cranking things up in the swamp. He's calling for the Gator's student body to bring their energy to Ben Hill Griffin Stadium. "If we pack our stadium, it starts with our student body creating the energy and the excitement," says Mullen. He's challenging the Gator Nation to set a new attendance record at the upcoming spring game this weekend.
Rocky Top is certainly rocky. Can the new Head Coach Jeremy Pruitt fill in the holes that Butch Jones left? The Vols previously ran a 4-2-5 defense, but with Pruitt they'll have to adapt to the 3-4 defense he ran at The University of Alabama. The concern is whether Vol's fans will give Pruitt room to make mistakes. The Vols finished 4-8 last season under former head coach Butch Jones.
Kirby Smart's Georgia Bulldogs defensive line is suffering from injuries this spring. Jimbo Fisher's Texas A&M's Aggies are having difficulties practicing in the heat due to an offensive lineman experiencing a heat stroke. Ed Orgeron's Louisiana State University Tigers defense is holding the upper hand on the offense in spring scrimmage games.
Fans at The University of Alabama like to hear about versatile players. This spring, DeVonta Smith is showing his skill on both sides of the ball. Rumors are circulating that he's been working as a defensive back, but Head Coach Nick Saban says he'll only be used in that position for emergencies. Najee Harris is showing initiative to prove that he deserves a larger role on the field. During his true freshman season, he rushed for over 300 yards with three touchdowns. Harris has shown tremendous improvement since January.  
The Tide's A-Day is scheduled for April 21st with free admission at Bryant-Denny Stadium. Kickoff is at 1:00 PM CT.
The 2017 National Championship Team visited the White House this week on Tuesday. Head Coach Nick Saban's Alabama team are regular guest to 1600 Pennsylvania Avenue. This is the fifth time in nine seasons that Saban has visited the White House. The White House visit wasn't a off day for him. Saban still made recruit calls from the White House. The young quarterback Tua Tagovailoa, scored a historic moment with President Donald Trump by taking a selfie with him along with other players. How many quarterbacks can say they've taken a selfie with the President?

Catch the following SEC football games this weekend:
Kentucky – Friday, April 13
Florida – Saturday, April 14
Mizzou – Saturday, April 14
Texas A&M – Saturday, April 14